Product Details
High quality white fins, hand made from a high quality composite fiber mixture, processed under vacuum in molds.
The blade's edge is protected with a rubber rail. Specially designed for underwater gams, diving in shallow waters and rocky environments. Great for UWG activities and dives in rivers, lakes, ponds etc.
Equipped with soft and comfortable TPR rubber foot pockets and full length rubber rails for maximum blade protection, hydrodynamic stability and silent movement underwater.
All Leaderfins fins are supplied with a one-year warranty for materials and craftsmanship.
Product Dimensions: ~ 9.5 x 26.5 inch / ~ 24 x 67 cm
Blade Angle: ~ 20 degrees
Warranty:
1 Year warranty for materials and craftsmanship
Shipping:
Worldwide shipping - calculated
Notes:
Fins with non-standard (80CM) blade lengths are non-returnable / exchangeable.
Length:
70~80 cm / 27.6~31.5 inch
Customers who bought this product also viewed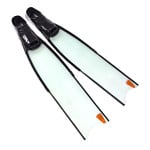 Product Questions
No questions found for this product
Customer Reviews
Share your experience and knowledge of this product with other customers...