Product Details
A small monofin carrier bag for WaterWay Dozo, Wave and Glide Junior monofin models.
Equipped with two back straps and a side strap a for maximal convenience.
Keeps your monofin safe while traveling.
Monofin bag dimensions: ~60 x 76 x 15 cm / ~24 x 30 x 6 Inch
Shipping:
Worldwide shipping - calculated
Customers who bought this product also viewed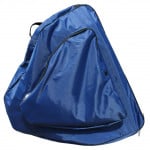 Product Questions
No questions found for this product
Customer Reviews
Share your experience and knowledge of this product with other customers...