Product Details
WaterWay 65cm wide bag for rescue fins / short bi-fins.
Large enough to hold 2 pairs of fins.
With a side strap for maximal convenience.
Keeps your fins safe while traveling.
Shipping:
Worldwide shipping - calculated
Url:
https://www.freedivershop.com/waterway-short-fins-bag?___store=us&sswo
Product Questions
No questions found for this product
Customers who bought this product also viewed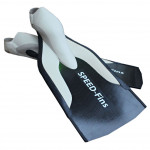 Customer Reviews
Waterway lifesaving fins Bag
Bag is Ok! It is a good tool! Thank you !
Excellent
Great bag, fits fins in great (2 pairs)