Product Details
With a blade length of 45cm (17.7inch) and a rubber covered carbon fiber blade the WaterWay Nemo Rugby fins supply the swimmer with unmatched comfort, power and durability.
The blade is constructed of 100 micron thick layers of high quality carbon fiber and WaterWay's specially developed resins.
Guaranteed to supply the swimmer with consistent thrust and unmatched power for over 2000km (1245mi).
Footpockets are made of 100% quality indian rubber. The fin's blade is made of high quality and durable carbon fiber to last for years.
As all WaterWay fin blades the blades are hand polished to ensure optimal streamline behavior underwater.
Sku:
WaterWay Nemo UW Rugby Carbon Fins
Warranty:
Shipping damages, materials and craftsmanship 14 days from delivery
Shipping:
Worldwide shipping - calculated
Length:
60 cm / 23.6 inch
Customers who bought this product also viewed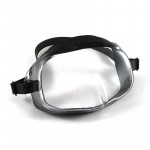 Product Questions
No questions found for this product
Customer Reviews
Share your experience and knowledge of this product with other customers...