Product Details
The Merling monofin is specifically designed for mermaids.
Perfect for use as a base for your mermaid fluke.
Features a unique protective rail which prevents damages to your fluke.
Equipped with natural rubber cast foot pockets with a soft neoprene interior for absolute comfort and durability.
The Merling blade is made with top quality fiberglass in combination with WaterWay's specially developed resins.
Blade dimensions: 50 x 45 cm / ~19.7 x 17.7 inch
Warranty:
1 Year warranty for materials and craftsmanship
Shipping:
Worldwide shipping - calculated
Length:
45 cm / 17.7 inch
Url:
https://www.freedivershop.com/waterway-merling-monofin?___store=us&sswo
Product Questions
How to select the correct foot pocket size?

How to correctly measure my foot length?
Customers who bought this product also viewed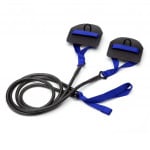 Customer Reviews
Share your experience and knowledge of this product with other customers...