Product Details
This monofin is specifically designed for children. Perfect for 8-12 years old finswimmers.
With a 50cm (20 inch) wide rubber coated blade, this monofin is great for your child's finswimming training and competitions.
The blade is constructed of 100 micron thick layers of high quality fiber glass and WaterWay's specially developed resins.
Guaranteed to supply the finswimmer with consistent thrust and unmatched power for over 2000km (1245mi).
Supplied with high quality classic monofin footpockets - internally lined with soft neoprene for maximal comfort.
Sku:
WaterWay Kids Wave Monofin
Warranty:
1 Year warranty for materials and craftsmanship
Shipping:
Worldwide shipping - calculated
Length:
50 cm / 19.7 inch
Url:
https://www.freedivershop.com/waterway-kids-wave-monofin?___store=us&sswo
Product Questions
How to select the correct foot pocket size?

How to correctly measure my foot length?
Customers who bought this product also viewed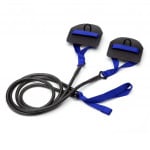 Customer Reviews