Product Details
The Hero monofin is specifically designed for swimmers.
Great for improving swimming technique and muscle strengthening.
Ideal for use as a base for a mermaid fluke, features a unique protective railing which prevents damages to your fluke.
Facilitates the development of core muscles, specifically - lower back, abdominal muscles, quads and gluteus.
Perfect for long distance butterfly training and maintaining a full, controlled stroke.
Great for side kicking and breaststroke and training.
Features natural rubber cast foot pockets with a soft neoprene interior for absolute comfort and durability.
The Hero blade is made with top quality fiberglass in combination with WaterWay's specially developed resins.
Blade dimensions: 50 x 45 cm / ~19.7 x 17.7 inch
Warranty:
1 Year warranty for materials and craftsmanship
Shipping:
Worldwide shipping - calculated
Length:
45 cm / 17.7 inch
Customers who bought this product also viewed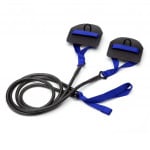 Product Questions
How to select the correct foot pocket size?

How to correctly measure my foot length?
Customer Reviews
Good for training!
In my opinion this model is good for a different training option, it helps to perfect the curl and is more agile than the bigger models!
Maximální spokojenost
Perfect design and quality. My son (8 years ) is very satisfied , good fitting, neoprene socks are not necessary.
(Perfektní provedení a kvalita. Syn (8 let) velice spokojen, dobře se obouvá, neopreonové špičky nejsou potřeba.)