Product Details
Old school custom made Glide monofin, featuring a traditional 100% hand made blade.
WaterWay's expertly hand made blades are known to exhibit higher level of responsiveness and resilience compared with modern monofin blades.
Glide monofin models are some of the most advanced monofins in the world. Great for freedovomg. swimming training and competitive finswimming.
The Glide monofin features revolutionary cast rubber foot pockets that enable optimal grip of the freedivers feet and the best possible energy transfer.
The monofin's blade is covered with a dense neoprene wing, which helps complete the athlete's motion underwater and enables passing a maximal distance with minimal effort.
Thanks to the monofin's wing it is positively buoyant at the surface. Buoyancy turns negative at a depth of 5-10m.
The monofin's blade is made of high end advanced and durable composite fiber to last for years.
As all WaterWay fin blades are hand polished to ensure optimal streamline behavior underwater.
Sku:
WaterWay Glide Classic - Hand Made Blade
Warranty:
1 Year warranty for materials and craftsmanship
Shipping:
Worldwide shipping - calculated
Length:
68 cm / 26.8 inch
Customers who bought this product also viewed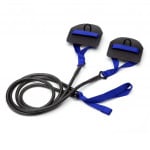 Product Questions
How to select the correct foot pocket size?

How do I choose blade stiffness?

How to correctly measure my foot length and width?
Customer Reviews