Choosing The Right Monofin For You
Choosing The Right Monofin For You
There are many types of monofins out there and it's very hard to choose the right monofin for you based on looks and price alone. This article will guide you through the different kinds of monofins and help you determine - which is the right monofin for you!
Freediving Or Finswimming Monofins?
All monofins can be divided in to two groups; monofins that are designed for freediving and monofins which are designed for finswimming. Some monofin models can be used for both kinds of activity and perform very well in both.
You should choose a monofin that is designed for the type of activity you want to use your monofin with.
Types Of Monofins
There are 3 main types of monofins, each with its own unique properties;
1. Classic Monofins
Classic monofins are mostly intended for use in finswimming, however make for excellent freediving monofins as well (several freediving world records were set with this type of monofin in the past). These monofins are very lightweight and are excellent instruments for learning and practice of proper fining technique. They are composed of a fiberglass blade and classic style foot pockets.
Model names (freediving & finswimming):
Model-1 Monofin, Model-2 Monofin, Carbon Sport Monofin, Sport Monofin


Model names (finswimming only):
DoZo Monofin, Model-3 Monofin


Price range ~ 130$-215$

---
2. Recreational & Training Monofins
Recreational & training monofins are intended for use in recreational freediving and freediving training. This type of monofin is comprised of a fiberglass blade with a neoprene wing for better stability when moving underwater and "regular fin" foot pockets. This makes the monofin very comfortable for prolonged use, enabling the freediver to use it for hours at a time.
Model names (freediving only):
Nemo-Wing Monofin, LF Black Monofin, LF Carbon Monofin, Freediving Advanced Monofin


Price range ~ 237-399$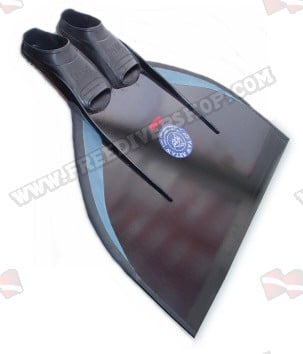 ---
3. Professional Monofins (AKA Hyper Monofins, Rocket Monofins)
Professional monofins are designed for use in both freediving & finswimming competitions. These are very massive and efficient monofins, weighing between 2.5-3.5kg (5-7lbs) while still remaining positively buoyant at the surface of the water. Professional monofins are comprised of a fiberglass / carbon fiber blade - lined with a layer of neoprene for stability and cone-shaped / neoprene lined foot pockets for optimal energy transfer from the freediver's / finswimmer's body to the monofin blade. Most world records today (freediving & finswimming alike) are set with this type of monofins.
Model names (freediving & finswimming):
1Wing Monofin, Flyer Monofin, Hyper Monofin, Hyper Carbon Monofin, LF Flyer Monofin, LF Flyer Carbon Monofin, LF Sport Advanced Monofin


Model names (freediving only):
Freediving Glide Monofin, Freediving Glide Monofin Carbon


Model names (finswimming only):
Finswimming Glide Monofin, Finswimming Glide Monofin Carbon


Price range ~ 169$-730$

---
Didn't find what you were looking for?

Our online support team will be happy to assist you with any further questions or concerns you may have. If you require any help or advice in order to select the best product for your needs, simply drop us a line at [email protected] or send us a message using the contact form on our site and one of our representatives will get back to you shortly.