Product Details
Reef camouflage wetsuit for freediving and spearfishing from Elios.
The suit is made of high quality Sheico neoprene.
Open-cell inside for maximum warmth / Nylon outside for maximum protection and durability.
Elastic, soft and durable with a brown camouflage pattern.
Great for spearfishing and freediving.
Elios unique stitching technique guarantees unmatched comfort.
Made up of 2 parts; high waist pants and a hooded jacket.
Shipping:
Worldwide shipping - calculated
Material:
Sheico Neoprene
Thickness:
2 mm, 3 mm, 5 mm, 6 mm, 7 mm
Style:
Single Lined, Double Lined
Customers who bought this product also viewed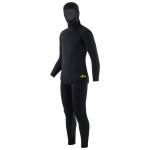 Product Questions
No questions found for this product
Customer Reviews
very good
Amazing fit and comfort! Very pleased with the flexibility and warmth.