Product Details
Tailor made wetsuit for freediving and spearfishing from Elios.
The suit is made of high quality Nam-Liong neoprene.
Open-cell inside for maximum warmth / Nylon outside for maximum protection and durability.
Elastic, soft and durable with a green camouflage pattern.
Great for spearfishing and freediving.
Elios unique stitching technique guarantees unmatched comfort.
Made up of 2 parts; high waist pants and a hooded jacket.
Sku:
Tailor Made Elios Green Reef Camo Wetsuit
Shipping:
Worldwide shipping - calculated
Material:
Sheico Neoprene
Thickness:
3 mm, 5 mm, 7 mm, 8 mm
Style:
Single Lined, Double Lined
Customers who bought this product also viewed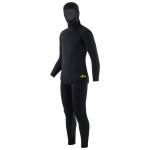 Product Questions
No questions found for this product
Customer Reviews
Terrific
My suit is terrific. The water temp where I snorkel is 50 degrees F. I was warm during my entire hour and a half snorkel.
Great Fit, Very Warm
This is my first Elios suit and I am impressed with the fit, flexibility and warmth. A great improvement in the free diving experience. I highly recommend this suit.
Love it
Suits perfekt, like a second skin.
And for a 7mm Suit it's still very flexible.
Great to dive with it.