Product Details
High quality black integrated weight vest for spearfishing and diving.
The Sinker vest is supplied with 3.5 kg / 7.8 lbs of integrated weights.
Anatomically-correctly distributed in order to allow optimal weight distribution during your dive.
Equipped with 4 additional modular weight pockets and adjustable buckles.
Sku:
Divein Built-In Weight Vest
Shipping:
Worldwide shipping - calculated
Customers who bought this product also viewed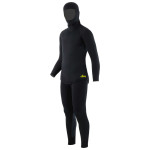 Product Questions
No questions found for this product
Customer Reviews
Share your experience and knowledge of this product with other customers...