Product Details
High quality black neoprene hood from Divein.
Made from 3 / 5 mm neoprene with a Termo nylon interior and black nylon exterior.
Great for improving thermal insulation in the winter and in cold waters.
Shipping:
Worldwide shipping - calculated
Material:
Sheico Neoprene
Customers who bought this product also viewed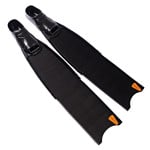 Product Questions
No questions found for this product
Customer Reviews
Share your experience and knowledge of this product with other customers...