Product Details
High quality 100% latex Ø18mm Superflex rubber band for spearguns (sold by the meter).
Highly elastic with extra high stretch factor, ensuring a shot with unmatched smoothness.
Meter to foot conversion: 1 Meter = 3.3 Feet
Sku:
Divein 18mm Black Flex Speargun Rubber (By Meter)
Shipping:
Worldwide shipping - calculated
Url:
https://www.freedivershop.com/divein-18mm-black-flex-rubber-band-by-meter?___store=us&sswo
Product Questions
No questions found for this product
Customers who bought this product also viewed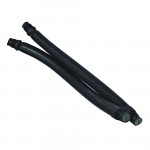 Customer Reviews
Share your experience and knowledge of this product with other customers...