Product Details
Arrow rubber swimming fins with full foot pocket.
Made from 100% high quality rubber.
Great for warm-ups and swimming practice in the pool or open water.
Shipping:
Worldwide shipping - calculated
Url:
https://www.freedivershop.com/arrow-rubber-fins?___store=us&sswo
Product Questions
How to select the correct foot pocket size?

How to correctly measure my foot length?
Customers who bought this product also viewed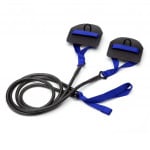 Customer Reviews
Share your experience and knowledge of this product with other customers...