Product Details
A pair of standard Medium Speed Vents for the AMEO Powerbreather snorkel.
The Medium Speed Vents are designed for breathing technique and respiratory muscles training at medium intensity.
Ideal for competitive swimmers, triathletes, freedivers and all other competitive athletes who wish to strengthen and train their respiratory muscles and breathing technique during swimming practice.
Shipping:
Worldwide shipping - calculated
Customers who bought this product also viewed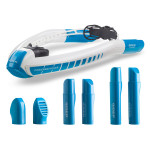 Product Questions
No questions found for this product
Customer Reviews
Share your experience and knowledge of this product with other customers...