Product Details
Tailor made Smoothskin wetsuit for freediving and spearfishing from 29/71.
Made with high quality NJN or Sheico neoprene material.
All 29/71 wetsuits are hand made with exquisite attention to detail.
Open-cell inside for maximum warmth / streamlined black Smoothskin exterior.
Super stretchy, soft and durable, 29/71 wetsuits do not hinder your movement underwater.
Made up of 2 parts; high waist pants and a hooded jacket.
Sku:
2971 Smoothskin Black Wetsuit
Shipping:
Worldwide shipping - calculated
Material:
Sheico Neoprene, NJN Neoprene
Thickness:
2 mm, 3 mm, 5 mm, 7 mm
Customers who bought this product also viewed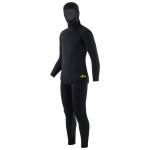 Product Questions
No questions found for this product
Customer Reviews
Share your experience and knowledge of this product with other customers...