Product Details
High quality freediving neck weight from 29/71.
Featuring an innovative Key-Loc system pioneered by 2971 allowing for a streamlined fit around the neck.
Perfectly suited for depth and pool training.
Made with soft silicone tubing for absolute comfort.
Specifically designed for use in freediving activities.
Great for pool training and for use in competition.
Internal circumference:
Small - 39 cm / 15.3 inch
Medium - 41 cm / 16.1 inch
Large - 43 cm / 16.9 inch
Extra Large - 43 cm / 16.9 inch
Sku:
2971 Pink Freediving Neck Weight
Shipping:
Worldwide shipping - calculated
Weight:
1~2 kg / 2.2~4.4 lbs
Customers who bought this product also viewed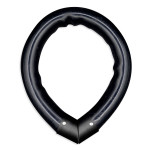 Product Questions
No questions found for this product
Customer Reviews
Share your experience and knowledge of this product with other customers...